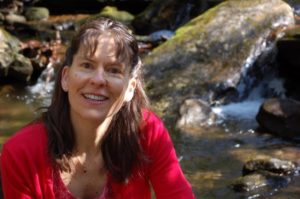 Kare Strong loves making things and then sharing them with the world. Her creative journey began as a poet, then came songwriting. All through those great adventures of the heart, she was dabbling in art. She is presently immersed in painting, mostly with oils, in her home studio in the woods of Swannanoa, North Carolina. She often has a song she is working on too. Her paintings are kindred spirits of her songs. They are all about vibrant beautiful color and attempting to depict the magical quality of the world we live in, and the love that is at the heart of everything.
Kare Strong is a former primary school teacher who has loved to sing since she was 5 years old. She learned a few guitar chords from a student of her father when she was twelve. She would bring her guitar into the classroom and sing songs with her students. It wasn't until many years later (after singing in her college choir, 3 years of classical guitar study and 5 years of Irish fiddle study with master teacher Brian Conway), that using those few simple chords  she quite unexpectedly wrote her first song. It is titled My Friend is a Bear.
She was a music student of Josh Goforth at that time and a summer time student of traditional music at the Swannanoa Gathering music camp in Swannanoa, NC. She first met Josh there at camp in  his amazing music theory class. She happened to share her Bear song  in a class that summer at camp and received such an overwhelmingly positive response that the idea to make an album was born. Josh consented to help her and from then on her lessons with him were focused on song writing. She has a deep admiration and appreciation for animals, nature and children. Her poetic and lyrical songs  tell stories about friendship found in unexpected places, kindness, inclusiveness, wonder, beauty and most of all love.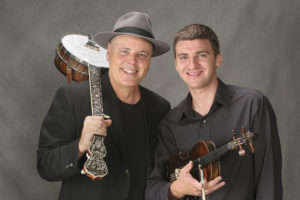 Josh Goforth, (on the right in the photo with David Holt), is a native of Madison County, North Carolina. He must have been born musical — he was already playing piano in church at the age of four — but it was an experience he had in the sixth grade that really lit the fuse of his precocious and explosive musical career. A performance at Goforth's middle school by David Holt and Sheila Kay Adama caused him to start thinking about the musical heritage of his native Madison County. A couple of years later, he began to learn guitar from his great-uncle. The great-great-great grandson of Madison County fiddler Asbury McDermott was launched on a career in traditional and acoustic music. Over the next few years he learned to play at least ten different instruments by ear, learning from such local masters as Gordon and Arvil Freeman. After high school he went to East Tennessee State University to study music education, and to be a part of ETSU's famous bluegrass and Country Music program. In 2000 he played fiddle for the movie "Songcatcher," both onscreen and on the soundtrack. He has performed all over the United States and as well as Europe and Asia. In 2000, 2003, and 2005, he was named fiddler of the festival at Fiddler's Grove making him the youngest three time winner. This secured him the title "Master Fiddler." Josh says that one of the main goals of his career is to get young people interested in traditional music. "In all the years I've been playing traditional and old time music, I've always said that if people could really see and hear it live, they'd fall in love with it." Josh is a producer, song-writer, arranger, multi-instrumentalist, performer, an award winning story teller, and a highly sought after music teacher.