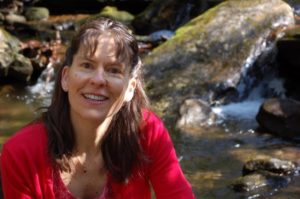 Kare Strong is a former primary school teacher from California who has loved to sing since she was very young. She has been creatively engaged for much of her life, in poetry writing, painting, and learning fiddle, guitar and banjo. One day she moved to North Carolina, immersed herself in growing musically, and began writing songs. She has a deep admiration and appreciation for animals, nature and children, which is reflected in her songs. They are poetic and lyrical (revealing at times hints of her kinship with the poetry of olden times, namely Blake, Keats, Wordsworth, Shelley and Byron). Her songs are about love and celebrating life.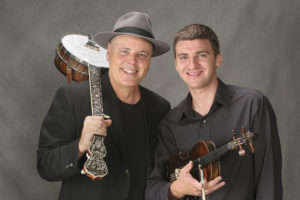 Josh Goforth, (on the right in the photo with David Holt), is a native of Madison County, North Carolina. He must have been born musical — he was already playing piano in church at the age of four — but it was an experience he had in the sixth grade that really lit the fuse of his precocious and explosive musical career. A performance at Goforth's middle school by David Holt and Sheila Kay Adama caused him to start thinking about the musical heritage of his native Madison County. A couple of years later, he began to learn guitar from his great-uncle. The great-great-great grandson of Madison County fiddler Asbury McDermott was launched on a career in traditional and acoustic music.
Over the next few years he learned to play at least ten different instruments by ear, learning from such local masters as Gordon and Arvil Freeman. After high school he went to East Tennessee State University to study music education, and to be a part of ETSU's famous bluegrass and Country Music program. In 2000 he played fiddle for the movie "Songcatcher," both onscreen and on the soundtrack. He has performed all over the United States and as well as Europe and Asia. In 2000, 2003, and 2005, he was named fiddler of the festival at Fiddler's Grove making him the youngest three time winner. This secured him the title "Master Fiddler."
Josh says that one of the main goals of his career is to get young people interested in traditional music. "In all the years I've been playing traditional and old time music, I've always said that if people could really see and hear it live, they'd fall in love with it."
Josh is a producer, multi-instrumentalist performer, an award winning story teller, and a highly sought after music teacher.
Kare and Josh met at the Swannanoa Gathering music camp where Kare was a student of his. She went on to take private lessons with him. Then one beautiful day the "Rivers of Love" album was born. She is, by the way, still taking lessons from him. He helps her with her song-writing, singing, guitar and banjo playing.
What People are saying about Rivers of Love and Beneath The Cherry Tree:
"If you want to fall in sweet love with the natural world on the winds of whimsy, adventure, and surprise, Beneath the Cherry Tree is for you… This album is pure beauty, filled with gentle reminders of how good it feels to enjoy and respect nature and each other. It is a tender masterpiece that touches me deeply."  –Dave Kinnoin
"Beneath the Cherry Tree is a showpiece of pure creativity, both in songwriting and in Josh's exceptional arrangements and musicality."
–Timmy Abell, TimmyAbellmusic.com
"Kare, your view of the world is so beautiful and magical as your voice." –Pam Donkin
Kare brings a much needed voice for hopeful times, harkening back to a more innocent view of the world."  –Beth Lee
"I immediately fell in love with Kare's music. Her songs bring out the child in me."  –Jenny Boyd Bull
"Kare's music is uplifting to the spirit." –Molly Hueffed
"A delicious album of songs for the family. It's like making a new best friend."
–Tom Paxton, Grammy Lifetime Achievement Award Winner
"Rivers of Love" is truly a gem, and a beautiful addition to the world of family music. It is a lovely album deserving of a large audience, music that will stand the test of time."
–Timmy Abell, TimmyAbellmusic.com
"I love, love, love your CD! Your singing is exquisite. The writing pulls you in. The music is beautiful. The arrangements and instrumentation are wonderful. The pacing of the songs is perfect. The harmonies are great. The CD makes me feel happy and safe in the world. I can't say enough! Congratulations to you and to Josh!" –Karen Holbert, Asheville, NC
"Your beautiful, beautiful songs! I love them so, and I was struck by their lyrics. So much appreciation of nature and animals. So much whimsy and affection and sweetness." –Dr. Beret E. Strong, Boulder, CO
"Oh it is absolutely divine!!! It brings tears to my eyes. Your voice sounds so beautiful and the instruments are so lovely and the lyrics so full of love."
–Sally Simmons, Seattle, WA